What Is The Scout Leadership Program?
The Military Order of the Purple Heart recognizes individuals who are: Eagle Scouts, Girl Scout Gold, Venture Summit Award, and/or Sea Scout Quartermasters recipients, who have risen above their peers in exemplifying the qualities of that rank through extraordinary leadership skills.
About the Scout Leadership Program:
To recognize Scouts for their commitment to the Scouting Programs while they have demonstrated leadership roles within their units, schools, and communities.
Awarded to active member of:
Boy Scout Troop
Girl Scout Troop
Venturing Crew
Sea Scout Ship
Be the recipient of:
Eagle Scout Award
Girl Scout Gold
Venture Summit Award
Sea Scout Quartermaster Award
Have demonstrated exemplary leadership in school, scouting, and community.
There is no minimum age requirement for applicants as long as all other eligibility criteria have been met according to the Scouting Program. The maximum age requirement for applicants is 18 years old. If an applicant reaches their 18th birthday during the nomination year, they remain eligible as long as they are still in high school at the time of the submission. There is no deadline for submission.

Scout Leadership Award Requirements:
Recommended: One award presented per scout
Previous recipients ARE NOT eligible for the award again
Recommended by Scoutmaster or Unit Committee Chair
Meet The Leadership And Involvement Requirements
For Meritorious Action, Extraordinary Fidelity, and Outstanding Service to their Scout unit, School, or Community
Not just held a Senior Leadership position - "Held Several Leadership positions and work as a team member"
Standout among "Peers"
Will still be a member of the organization in upcoming years to be an example of the qualification required and to demonstrate these abilities they demonstrated for the Leadership Award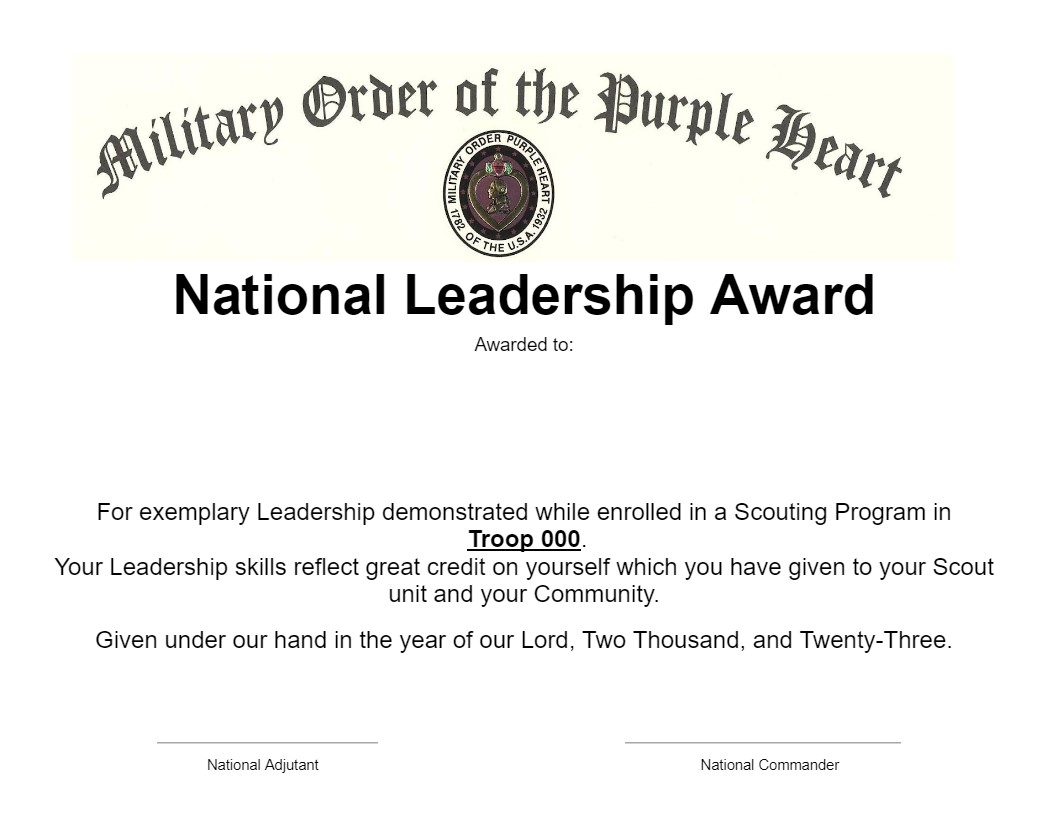 How to order Leadership Award?
Please click the button to order the award online. If you have any questions or concerns Contact communications@purpleheart.org
Contact Information
Roger Newall
ROTC/Youth Services Officer
Phone: (505) 610-1533
Email: nmrefsch@msn.com