Suicide Awareness
The Military Order of the Purple Heart was the first National Service Organization to create a Suicide Awareness Program and appoint a national officer for this position in 2016. This Program began in response to the crisis of the 20-22 veterans and active duty service men and women who end their lives to the epidemic of suicide daily.
I would like to bring your attention to the suicide crisis that is affecting our veterans and active duty service members. I pled with each of you to view: Suicide Statistics and Active Duty Military Suicides Near Record Highs. I want to encourage all Patriots to become part of the solution to this critical situation.
We all have been personally touched by this crisis. Suicide devastates families and friends and the profound effects last for generations. The MOPH advocates to our nation, VSOs, communities, and individuals to bring awareness to this situation. The average number of veterans/service members who take their life daily from suicide is 22. This is unacceptable. We are each a vital partner and must get involved to stop this epidemic.
It all boils down to the number 1. One is suicide is too many!!!. Every veteran and every service member's life matters. You can be the one to help save a veteran/service member's life. It is every Patriot's responsibility to look out for our fellow brothers and sisters. Your actions are crucial to ending this suicide plague.
Recognize the warning signs of suicide. Don't be afraid to get involved by reaching out. Check on your buddies. Do you know a veteran/service member or are you personally having thoughts of hurting or killing yourself? Do you know a veteran/service member who is depressed, withdrawn, hopeless or talking about suicide? Listen, and take their answers seriously. Seek help!! Go to a chaplain, mental health or first responder, call the crisis line or take them to an ER.
If you are or someone you know is struggling with stress, depression or suicidal ideation, please call the Military/VA crisis line at 800-273-8255. Press 1. It is a 24/7 line with a live person on the other end. You are not alone in this struggle; there is the help.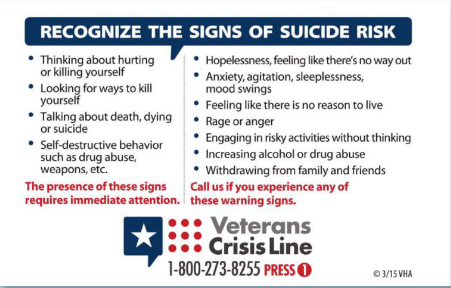 Contact Information
National Suicide Awareness Program Officer
Martin Byrne
martin.byrne01@gmail.com
(316) 227-9309